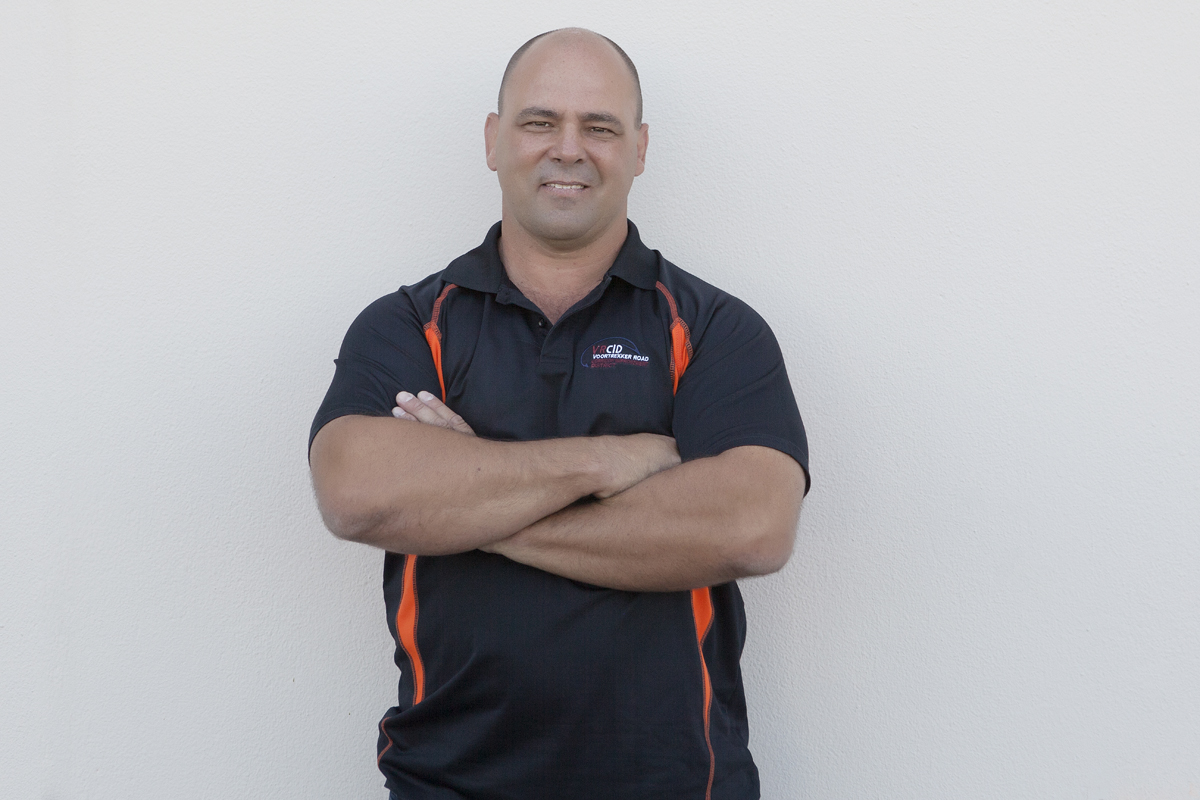 As you know, we exist to make the Bellville and Parow community safer and more secure. We offer 24/7 supplementary services and assistance to Improve Cape Town's largest geographical CID, which is no small task! As Operations Manager, Jeanne Preston is the lynchpin of our safety and security team. We chatted to him about his role, the area, and his top tips.
How long have you been working for the VRCID?
I have been with the VRCID for 2 years, and it has been a very interesting learning experience. The daily challenges and planning, as well as working together with our partners have made my time here worthwhile. The positive changes within the area make me proud and seeing such progress makes me love what I am doing.
The challenges
As a supplementary service provider to the City of Cape Town, we are regularly contacted by the public to assist with incidents outside of our jurisdiction. We are only responsible for providing top up services to keep the area clean and safe. Although this involves running our 24/7 support lines and safety vehicles, we are not there to replace SAPS. Due to the investment in our community, when contacted about assaults, robberies, or weapons incidents we will go above and beyond our job descriptions and provide whatever assistance we can. However, this puts our employees at risk should something go wrong. Crime has always been a major issue within the VRCID, and doing what we do has made the area what it is today. Safety is a priority for the VRCID.
The roles and responsibilities
Our security team consist of Precinct Managers, Shift Managers, the Contract Manager, and ground staff. Precinct Managers will inform the Contract Manager of any security issues that needs attention. In return, the Contract Manager will alert the Shift Managers who will ensure that the ground staff are informed, then monitor the situation and corrective action taken.
What does a normal day look like?
Unfortunately, our officers face verbal abuse on a daily basis. In some cases, this abuse becomes physical and some of our staff have been injured on duty. During each shift, specific areas within the neighbourhood are patrolled and monitored, drunk people are removed from the streets and public indecency is addressed. If required, our staff will also assist with broken down vehicles, and by removing hazardous items like glass or car parts after the accident occurred. Traffic and scene control are also performed by our team during and after an incident.
The chain of command
The head of the organisation is our COO – Derek Bock. You then have me as the Operations Manager, and Wilma Piek as Social Development Manager. Under this team there are four Precinct Managers and two Social Development Field workers. We are supported by Securitas, an external security service provider.
How many staff are there?
The VRCID currently runs three shifts each day, covered by 16 members on duty. This includes a Shift Manager and Controller. They are joined by the Contract Manager and Precinct Managers.
Our partners
We work closely with the local Community Police Forum and Neighbourhood Watch, who assist us regularly. We have built strong relationships with both organisations, and these collaborations have been instrumental in the fight against crime. We invite the public to be our eyes and ears in the community. No change can be made in isolation. By working together, we can make VRCID safer for everyone.
Safety tips
It is important to understand that we are a top-up service, which means that we do not take the place of SAPS or Law Enforcement. Although our community is becoming a safer place to live and work, I would always recommend the following tips:
Lower your chances of being mugged by hiding phones and wallets.
Never leave valuable items within sight in your vehicle and always lock your car.
Always be vigilant and alert, especially in the CBD's of Parow and Bellville.
Inform SAPS of any suspicious behaviour or criminal activity immediately.