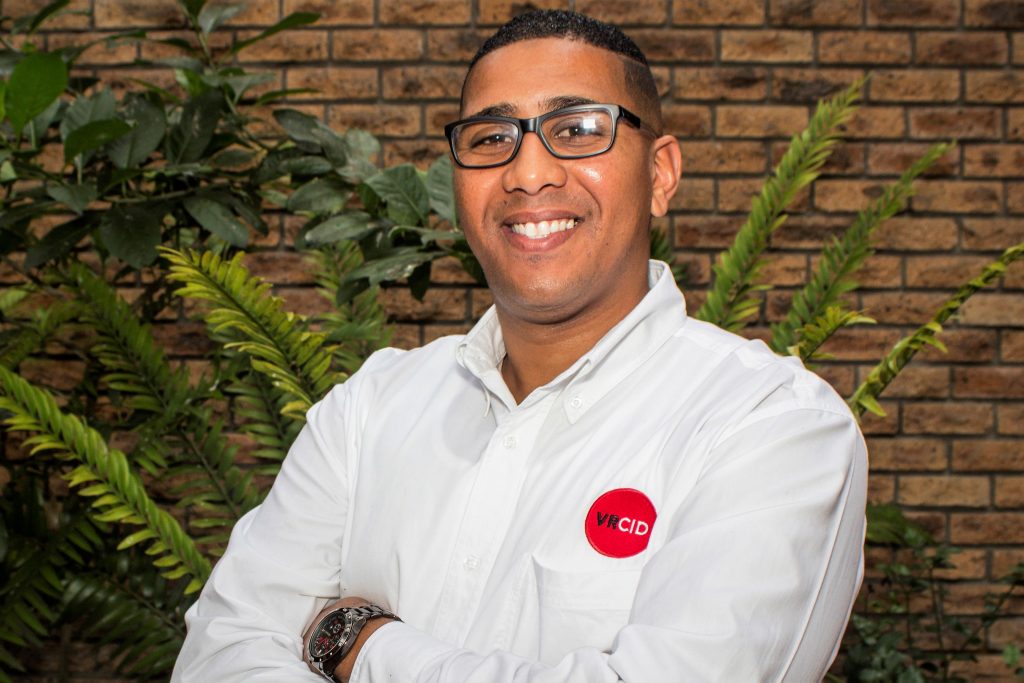 At VRCID, we are more than a team; we are a family. We share hopes and ideals, and support one another. This is especially true when it comes to creating a better environment for our community to thrive. We are always excited to welcome new members to our team who share this goal.
This is especially true of field worker Allistair Scholtz. He has a particular passion for assisting the homeless, and used his experience as Public Safety Officer to discover his real calling.  He has now taken a new role in the Social Development Team as fieldworker/outreach worker, and is thriving.
VRCID: Could you tell us a little bit about your personal and professional journey to your current position?
AS: I am married to a lovely medical sister and we have a son who is eight years old. Prior to joining VRCID I worked in the health industry, and later as a public safety officer for Securitas at VRCID. This role helped with my knowledge of the VRCID area and the nature of the work at Securitas brought me into contact with many of the people who live on the streets of Bellville and Parow.
I soon realised that I would rather be assisting the community on a social development level than in a security capacity. I was already investing in community development through coaching a soccer team of young people in the community where I live, so it seemed like a natural progression to build on. I am passionate about working with children and assisting people who live on the streets overcome the obstacles they face.
VRCID: How long have you been involved with the VRCID?
AS: I started working with the VRCID public safety officers in July 2017 and was then approached by the social department to work with them exclusively.
VRCID: What does your role as a fieldworker entail?
AS: Our team works with the homeless, street kids and vulnerable people in the Bellville and Parow areas. Our particular focus is assisting the homeless to reintegrate back into society. This practical support includes help with obtaining ID documents, helping them apply for SASSA grants and referring them to social workers or shelters where applicable.
We also do our best to connect them with their families by tracking down those related to the client where possible and facilitating communication.  We also believe in unity towards a cause and support our partner organisations where we can, partnering to assist in creating pathways out of homelessness.
VRCID: Do you work in a team of people and how does it slot into the VRCID as a whole?
AS: We are currently three people working together. We report to Wilma Piek, our Social Development Manager, but we are also part of the bigger VRCID team and work hand in hand with our four precinct managers and the safety and security component to create a clean, safe and sustainable environment.
VRCID: How has the adjustment to your new role been?
AS: So far, the adjustment has been made easy by my two colleagues Jacques and Veronica whom I learn a lot from on a daily basis. I enjoy working with them and feel that I am at the right place where I can grow and develop.
VRCID: What have you enjoyed most about your role so far?
AS: The thing I have enjoyed the most is the smile and thank you we get from people when we are done helping them with whatever issue they approached us with.
VRCID: What are you looking forward to?
AS: I'm really looking forward to helping many more vulnerable people in need. I would like to be an asset in my role.
VRCID: Where do you see yourself in 10 years time?
AS: I have a real passion for working with young boys who are troubled and trapped in gangs so I'm hoping to work in that type of environment.
VRCID: Is there anything else you would like to share?
I hope that I can make a change by helping those who are struggling to get off the streets one hopeful case at a time.