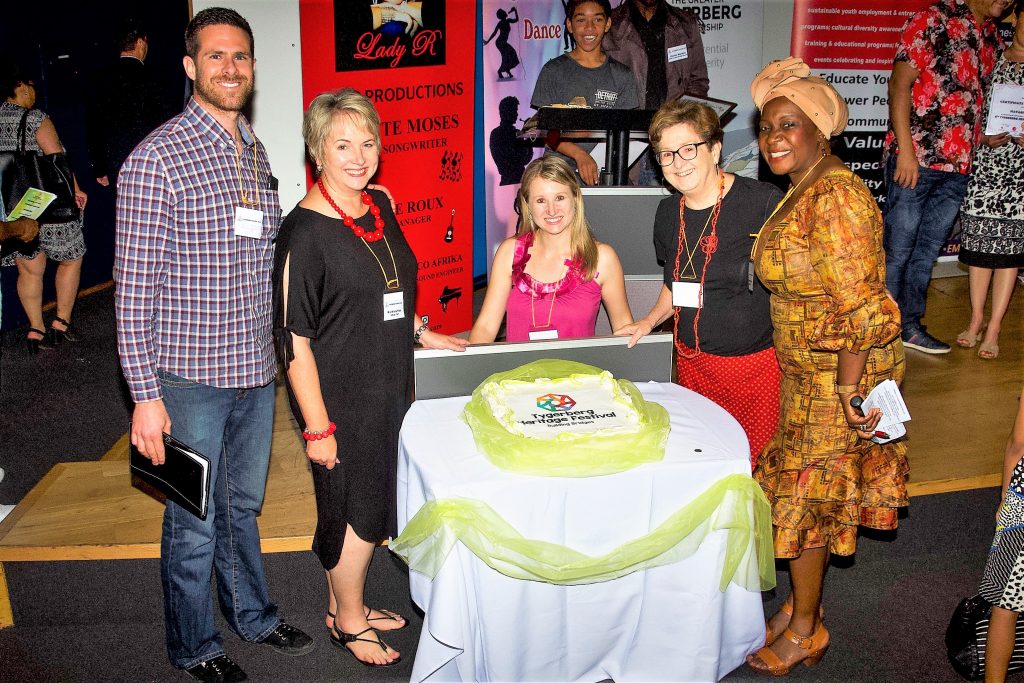 Around 120 diverse people from different 'walks of life' attended the Tygerberg Let's Talk & Awards 2018 event yesterday Sunday 28 October 2pm to 5pm at Sanlam Auditorium, Bellville. The event was a great success. The Tygerberg Let's talk segment involved a panel discussion on issues affecting the Tygerberg area, good practices and what was currently working and regeneration projects on improving the area. The panel speakers were Councillor Rosemary Rau (Chairperson Subcouncil 6), Johan Nuller (Management team member from GTP, Jean Beukman (Precinct Manager for Bellville VRCID) and Abdikadir Mohammed (Director & Project Officer, Somali Association of Cape town). An opportunity for questions & answers was given to the guests.
Some of the solutions and way forward agreed by all included – more joint working between service providers & the civic society, more proactive and awareness outreach strategies to promote education & training opportunities for the youth within the tertiary institutions in the Tygerberg area, more incentives & introduction of fines to address recurring waste dumping challenge, 'can do' approach, more creative initiatives to unite people and more!
As the keynote guest speaker, Councillor Rau spoke passionately about the future of Bellville as a socially cohesive society. She highlighted some of the key areas Cape town Council has been working on to improve the area and combat social issues.
Tygerberg's Awards recognise, celebrates and honours local businesses, organisations & citizens who have contributed positively to the Tygerberg area. All the 42 nominees for the 14 different categories were identified through a selection process by the Tygerberg Heritage Festival Planning team with a winner selected shortly before the awards day. Depending on the category, the main criteria used was that all nominees must be working towards excellence in their field and contributed to creating a better, safer, peaceful, cleaner and prosperous Tygerberg. See full list attached please.
An inaugural 'Special Awards' specially sponsored by the Greater Tygerberg Partnership (GTP) was introduced this year, with 4 categories. See full list attached please.
The guests were entertained with performances by 6 Tygerberg's Talent 2018 Finalists and through a socio drama by 4 Bellville Haven residents on 'how different cultures experience & address homelessness). The 6 Tygerberg's Talent 2018 Finalists were Tiyana-Lee Stemmet (singing), Liyema Nkuwemkwezi (operatic singing), The Harmonica Acapella group (singing), Shafiek Abrahams (dancing) Laiman Elias (dancing) & Jeremie Ruhaniika (poetry).
A certificate presentation was given to the 8 teams that participated in the 6th Tygerberg All Nations Football Tournament 2018. In addition, certificates of appreciation was given to 5 key people who have tirelessly supported Tygerberg Heritage Festival over the years – Ms Busisiwe Ngebulana, Mrs Natasha Brandt, Mr Morgan Changarama, Mrs Funke Alaba & Mr Luzuko Mqhele.
Prof Rhoda, Dean Faculty of Community & Health Sciences, Bellville said, "I would like to take this opportunity to express our gratitude for being awarded the 'Best Tertiary Institution'. We are truly honoured."
"We truly commend the hard work & input of all the 48 nominees & winners. It is sometimes easier to complain than to appreciate. This is what the Tygerberg Award is about. We wanted to genuinely recognise and encourage them all. They are our unsung heroes in the Tygerberg area", said Kemi Adebayo, Executive Director / CEO Bold Moves & Executive Director Tygerberg Heritage Festival.
For more information on Tygeberg's Talent 2018 and / or Tygerberg Heritage Festival 2018, please contact/ email kemi@visionhq.co.za | Whatsapp 079 084 2987
ISSUED BY: Tygerberg Heritage Festival Team (Bold Moves, MES, VRCID & GTP)