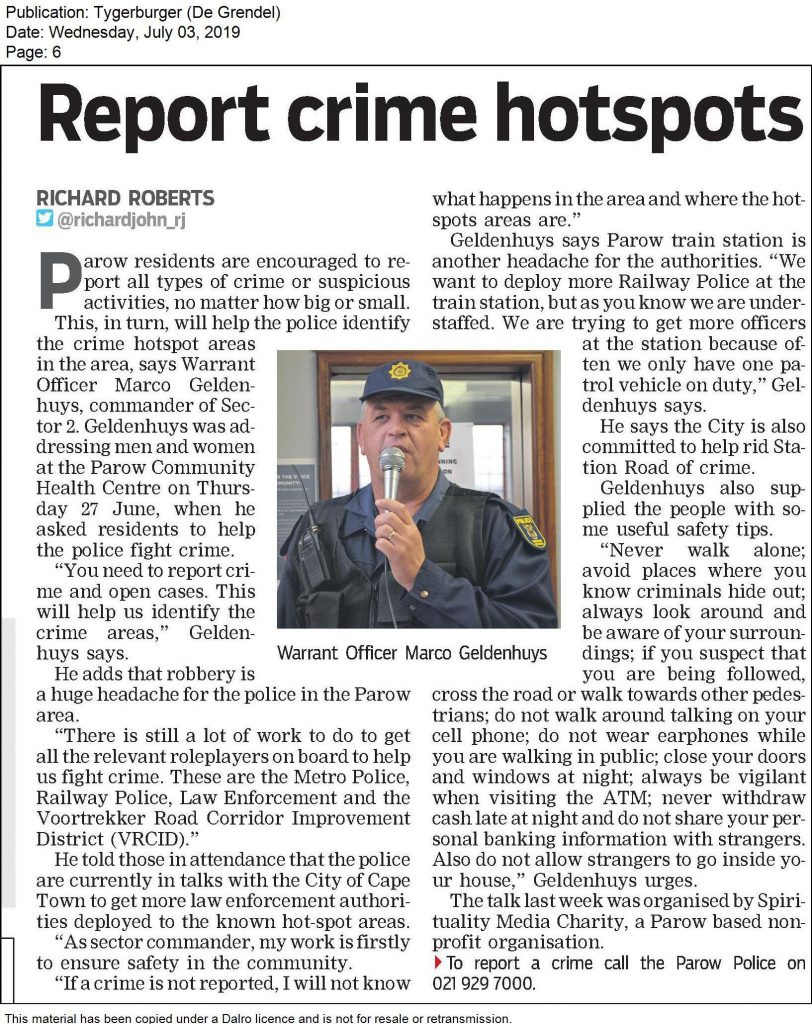 Parow residents are encouraged to re­port all types of crime or suspicious activities, no matter how big or small. This, in turn, will help the police identify the crime hotspot areas in the area, says Warrant Officer Marco Gelden­huys, commander of Sec­tor 2. Geldenhuys was ad­dressing men and women at the Parow Community Health Centre on Thurs­day 27 June, when he asked residents to help the police fight crime.
"You need to report cri­me and open cases. This will help us identify the crime areas," Gelden­huys says. He adds that robbery is a huge headache for the police in the Parow area.
"There is still a lot of work to do to get all the relevant roleplayers on board to help us fight crime. These are the Metro Police, Railway Police, Law Enforcement and the Voortrekker Road Corridor Improvement District (VRCID)."
He told those in attendance that the police are currently in talks with the City of Cape Town to get more law enforcement authori­ties deployed to the known hot-spot areas.
"As sector commander, my work is firstly to ensure safety in the community… If a crime is not reported, I will not know what happens in the area and where the hot­spots areas are."
Geldenhuys says Parow train station is another headache for the authorities. "We want to deploy more Railway Police at the train station, but as you know we are under­staffed. We are trying to get more officers at the station because of­ten we only have one pa­trol vehicle on duty," Gel­denhuys says.
He says the City is also committed to help rid Sta­tion Road of crime. Geldenhuys also sup­plied the people with so­me useful safety tips. "Never walk alone; avoid places where you know criminals hide out; always look around and be aware of your surroun­dings; if you suspect that you are being followed, cross the road or walk towards other pedes­trians; do not walk around talking on your cell phone; do not wear earphones while you are walking in public; close your doors and windows at night; always be vigilant when visiting the ATM; never withdraw cash late at night and do not share your per­sonal banking information with strangers. Also, do not allow strangers to go inside yo­ur house," Geldenhuys urges.
The talk last week was organised by Spiri­tuality Media Charity, a Parow based non­profit organisation.
To report a crime call the Parow Police on 021 929 7000.