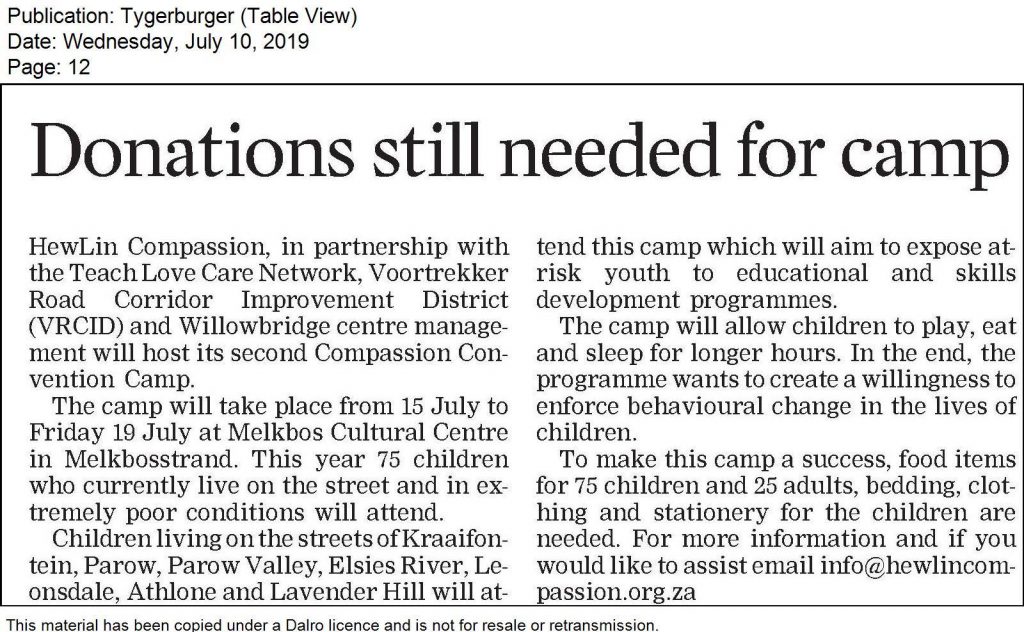 HewLin Compassion, in partnership with the Teach Love Care Network, Voortrekker Road Corridor Improvement District (VRCID) and Willowbridge centre management will host its second Compassion Convention Camp.
The camp will take place from 15 July to Friday 19 July at Melkbos Cultural Centre in Melkbosstrand. This year 75 children who currently live on the street and in extremely poor conditions will attend.
Children living on the streets of Kraaifontein, Parow, Parow Valley, Elsies River, Leonsdale, Athlone and Lavender Hill will attend this camp which will aim to expose at-risk youth to educational and skills development programmes.
The camp will allow children to play, eat and sleep for longer hours. In the end, the programme wants to create a willingness to enforce behavioural change in the lives of children.
To make this camp a success, food items for 75 children and 25 adults, bedding, clothing and stationery for the children are needed. For more information and if you would like to assist email info@hewlincompassion.org.za.