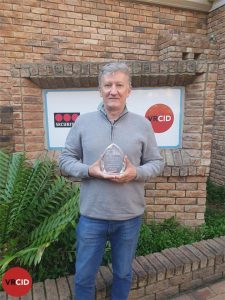 VRCID chief operations officer Derek Bock with the Downtown Achievement Pinnacle Award.
The Voortrekker Road Corridor Improvement District (VRCID) and the Greater Tygerberg Partnership (GTP) have both won international recognition.
The two organisations received the American-based Downtown Achievement Pinnacle Awards this month.
The International Downtown Association (IDA) gives the award annually to organisations from around the world that start projects that better the lives of their communities.
The categories include leadership development; organisational management; economic management; marketing; communications and events; planning, design and infrastructure; policy and advocacy as well as public space management and operations – the category that both the VRCID and GTP won.
The VRCID's chief operations officer, Derek Bock, said they were humbled by the award. The recognition should be shared among all the employees and ratepayers associated with the organisation, he said.
"The hard work that went into the installation of the 77 CCTV cameras within the VRCID has been paid off with this award. However, we must not, for one second, think that our work is done. Together with our partners at the police and the City's law enforcement agencies, we will continue to deliver on our mandate of providing additional services to the public."
The VRCID had received the award for its urban-management model, that helps build a database of crime hot spots and problem areas, he said.
"In the first five years of the VRCID's operation, the urban management model was largely analogue, comprising a team of public safety officers on the ground and radio reporting to a centralised control centre. However, there was a growing need to implement more advanced tools that could improve efficiencies, with a goal to deliver better outcomes. As a result of this, the project now comprises a centralised control centre at the VRCID offices, a network of 77 cameras, including 15 licence-plate recognition cameras, 24-hour monitoring and a team of skilled public-safety officers who are deployed to respond to incidents when reported."
The GTP was awarded for its part in establishing the Sha'p Left Nursing Hub on the Bellville terminus.
The hub gives the public access to medical examinations, a pill dispensary and an optometrist.
Warren Hewitt, GTP chief executive officer, said: "This project is an example of how the public sector can partner with the private sector to achieve shared goals. By delivering the Sha'p Left Nursing Hub in partnership with the City of Cape Town, we were able to put Cape Town, and Bellville, on the map in terms of global best practice in urban management. We are very pleased with this award and will continue to strive for the same levels of excellence, in partnership with the City and other stakeholders in the future."
Mayco member for spatial planning and environment Marian Nieuwoudt congratulated both organisations while David Downey, president and chief executive officer of IDA, said: "Both the VRCID and GTP received the pinnacle award for setting the new standard for improving cities worldwide. Their initiatives have made an impact on their city and the people who live, work and play in the community, and demonstrates the continued commitment to champion liveable, vital and thriving urban centres."