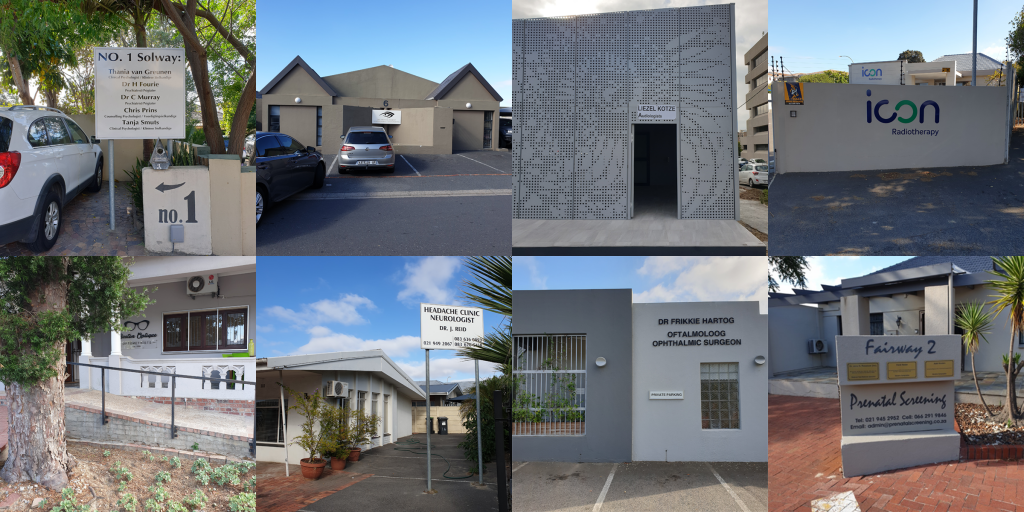 In our area, Fairway and Solway Streets are home to a thriving healthcare hub, with over 35 healthcare facilities within these two 250-metre stretches of road.
The Bellville central business district (CBD) is densely populated, with commuters making over 400 000 trips each day to our hometown. Our area's healthcare hub is impressive – it offers a wide range of healthcare solutions catering to the needs of our many residents and visitors, all within two small roads.
The healthcare hub is home to Louis Leipoldt Mediclinic, one of the oldest and best-known private hospitals in the Western Cape, as well as Icon Oncology – local pioneers in value-based care (VBC) cancer treatment. You name it, the healthcare hub has it: general/ clinical/ counselling psychologists, psychiatrists, physiotherapists, ophthalmologists/ opticians/ optometrists, dermatologists, prenatal screening, an audiologist, a mother & baby clinic, a Pathcare COVID-19 testing site, and a dental & orthodontic clinic, amongst others. (And if you have a headache after reading that list, you can go to the healthcare hub's Headache Clinic Neurologist, Dr. J. Reid, on 16 Solway Street.)
We spoke to Rocell Geldenhuys from Liezel Kotse Audiologists – a company that has been operating on 9 Solway Street for the past 20 years – about the healthcare facilities and the cleanliness of our streets. Rocell mentioned that "the area feels safe because it's clean and well kept, it's always busy, and there's a community feel, with people walking their dogs at the nearby park, or taking their children to the primary school in our area. I think the VRCID visibility is great for minimising crime in our area, and they come to let us know that we can call them if we feel unsafe – it's nice to know that there's someone else looking out for you."
We also spoke to Ophthalmic Surgeon Dr Frikkie Hartog, who has been running his practice on 13 Solway Street for the past 15 years, about the location and of our healthcare hub: "The area is well located and within easy reach of major highways, making it easier for out-of-town patients to reach. We also have a large network of doctors, specialists as well as specialised hospitals in close proximity. This allows for full complementary services that don't involve excessive travel burdens to the patient. The presence of VRCID is tangible and has had a positive effect on the area as a whole and also on my practice. The visibility of the patrolling vehicles is comforting, and the area is not frequented by vagrants. There has been a major decline in petty crime. The area is clean and well serviced."
Bellville is home and we're proud of our collective effort to keep our space clean and safe. And if you are ever in need, a doctor is just a hop skip and a jump away down the road.