For decades now, sex work has been a topic of controversy and legal debate as conversations around it continue to be shrouded in biases, myths, and generational misconceptions.
The term "sex worker" recognises that sex work is work. Prostitution, on the other hand, has connotations of criminality and immorality. Many people who sell sexual services prefer the term "sex worker" and find "prostitute" demeaning and stigmatising.
As a community, it is important that we engage in conversations about topics of this nature to educate ourselves, deepen our understanding of complex issues and explore diverse perspectives.
Sex workers and the law
Since the early 1900s, the selling of sex in South Africa has been illegal under the Criminal Code and several municipal by-laws. These laws also prohibit acts associated with sex work including making a living off sex work, owning a brothel, and enticing an individual into sex work. More so, under the Sexual Offences Act, any person who has carnal intercourse or commits an act of indecency with any other person for a reward is guilty of an offence. This means that under South African law, both the sex worker and the client are guilty of a crime.
In the United Kingdom, an all-party parliamentary group was formed to raise awareness of the impact of the sale of sexual services on those involved and to develop proposals for government action to tackle the sex trade. In its report, Shifting the Burden, the all-party group recommended the introduction of a sex-buyer offence instead of a sex-seller offence in an effort to end the demand for sex work and tackle the issue from the opposite side.
While there is currently no prescribed sentencing or punishment associated with sex work, transgressions of this nature have been subject to suspended prison sentences and hefty fines.
The longstanding criminalisation of sex work has, however, not deterred individuals from pursuing prostitution as a means of income. Criminalising sex work has only made it less safe by actively undermining denying sex workers' access to social and financial support or legal justice in the event of abuse, law enforcement exploitations or health-related scares. The stigmas, discrimination and criminalisation of the work hinder sex workers from seeking necessary preventative measures, support and care, according to a report by Human Rights Watch.
Why do some people sell sex?
While some are drawn to the ease at which money can be made in a short period, for others, sex work is the best option they have. The majority of sex workers in South Africa are black, poor females who primarily sell sex to support their children or other dependents. In this case, the criminalisation of sex work simply inflicts fear, emotional pain, and frustration upon South African sex workers who are trying to ensure a better life for their children.
In a study done by Human Rights Watch, sex workers mentioned that they had resorted to sex work after failing to find other work opportunities because they lack the necessary qualifications for more formal jobs. Many also enjoy the flexibility that sex work offers, as you can dictate the hours during which you work. And some pursue sex work to explore and express their sexuality.
Ultimately, sex workers sell sexual services to earn a livelihood and try to improve their socio-economic circumstances.
The risks associated with sex work
The fact that sex work is work does not mean that it is good work, or empowering work, or harmless work. Sex work is a consensual transaction between adults, where the act of selling or buying sexual services is not a violation of human rights. It is not inherently harmful, but the criminalisation and stigma around it make it circumstantially harmful.
Sex workers are exposed to multiple human rights violations, including extorted bribes from law enforcement, harassment, and verbal and physical abuse. They are often forced to seek work opportunities in unsafe, remote areas to protect themselves from the law, and many avoid reporting crimes due to fear of being prosecuted given the illegal nature of their work.
According to the Human Rights Watch's report, sex workers are often targeted for arrest because they match the profile of a sex worker, and not because they have been seen to engage in illegal activities. South Africa's Criminal Procedure Act clearly states that police must explain the reasoning behind an arrest, however, many sex workers have mentioned that this is rarely the case.
There are also several health concerns associated with sex work, namely STIs and HIV/AIDS. Not only are sex workers oftentimes asked not to practice safe sex, but there is a stigma around those who have contracted HIV/AIDS. So much so, that very few seek out the help of ARVs given the reinforced disgrace surrounding them, thus inhibiting public plans to decrease the prevalence of HIV/AIDS.
Pro decriminalisation organisations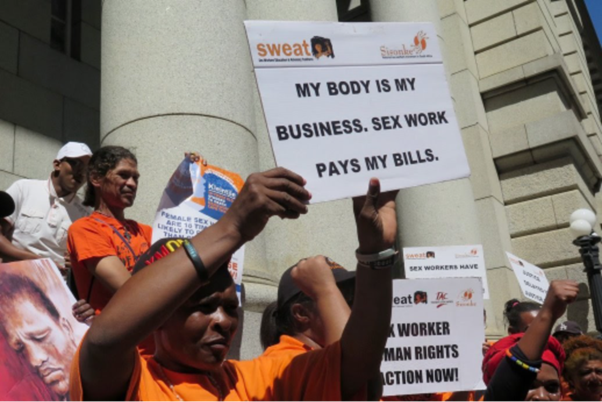 Popular NGO, Sex Workers Education and Advocacy Taskforce (SWEAT), has dedicated its efforts towards legalising prostitution and having sex work acknowledged as a genuine profession. SWEAT is highly active throughout our area and has created a union for all local sex workers to join, called Sisonke. The SWEAT team has been a pillar of support for sex workers in the City Bowl and has even used its resources to hire legal attorneys to help fight for the rights of sex workers. This includes the infringement of human rights, unethical detainment, criminal procedures, and prevention strategies.
Our VRCID fieldworkers also assist a group called Xchains to reach out to sex workers. This organisation, made up mostly of volunteers in the area, offers a safe haven for women in prostitution who feel trapped. The group meets every second Tuesday and works under the hospices of Straatwerk – a Christian and Faith-based organisation that assists women who want to get out of prostitution. Xchains also facilitates sessions at the Sotêr Congregation in Parow, where groups of 20 and 40 women meet to discuss ways in which they can find other sources of income or where they can request assistance with other personal problems.
Sex work is a complicated industry, and many sex workers, like most workers, have diverse feelings about their work. Some sex workers do not enjoy their work but feel that it is their best option to make a living. Some are indifferent about their work, but like that it offers flexibility or good pay.
The Vice Unit – Law Enforcement's unit that primarily deals with prostitution – plays an integral part in terms of minimising the effects of illegal sex work within South Africa's communities.
"The unit is mandated to assist and investigate complaints of prostitution and brothels, and to deal with complaints from the Human Trafficking Hotline. We can also issue Section 56 notices specifically related to solicitation under the Street and Public Places bylaw," says Assistant Chief of the Vice Unit, Marilyn Holding.
"While we are permitted to issue Section 56 notices, we are not permitted to affect an arrest for prostitution. When attending to Human Trafficking matters, we simply act as supporting role players while the HAWKS may affect an arrest. However, we've noticed that a lot of sex work has moved online, or sex workers operate as escorts, so we've been receiving fewer complaints recently," Holding continues.
In terms of support, the VRCID's fieldworkers, who operate under its Social Development department, reach out to illegal sex workers to offer them support and assist the homeless sex workers with moving off the streets.
"The VRCID works closely with organisations like Straatwerk, similar church groups, and A21, an organisation that protect victims of human trafficking. In many cases, sex workers are stuck in the line of work, forced to continue by pimps or those who they support through the work. These individuals are typically referred to shelters for abused women and children," says VRCID Social Development Manager, Wilma Piek.
Other aspects of support the VRCID offers to individuals caught in sex work include assistance with substance use disorder, referral to necessary health care services, affordable alternative accommodation, skills development, and alternative employment.
"With help from SWEAT, Our Social Development department has started with training our Public Safety Officers (PSOs) on how to deal with the sex workers or women caught in sex work in an effective, yet considerate manner. The PSO's are trained to deter the sex workers, as well as their clients, from operating in the Bellville and Parow areas but must be careful not to breach the VRCID's mandate or disrespect the human rights of the sex workers."
"We must stress that the VRCID's Public Safety Officers are peace officers and do not have the authority to arrest or fine sex workers. When engaging with sex workers, the PSO's often walk a fine line between being perceived as abusive if they are too harsh or enabling the illegal activity if they are too friendly," says Piek.
"SAPS or Law Enforcement may only be contacted if the sex worker and client are found conducting the act. Therefore, in most cases, the most that can be done is the sex workers and their clients may be asked to move on to another area."