It is no secret that we have all suffered financially during the Covid lockdowns, especially in the Western Cape, where tourism was the lifeblood of the economy. 
These financial difficulties have pushed some people over the edge, and the number of individuals struggling with homelessness has exploded. Every year another headline reminds us that someone has died from exposure to Cape Town's bitterly cold winter temperatures.
"We're living in the 21st century – we cannot let this happen." – Ilsa Maartens, MES Cape Town Branch Manager.
Each winter, MES and the VRCID, with the generous help of the community, set up emergency winter sleeping sites at Bellville Safe Space, MES Parow and the Durbanville Drop-In Centre for the homeless. As of August 2021, there were 10 emergency sleeping sites set up, although some venues are only needed during severe cold snaps when it is life-threatening to sleep outside. MES has three winter sleep sites that they can open for this purpose whenever necessary, in Bellville, Parow and Durbanville Drop-in Centre.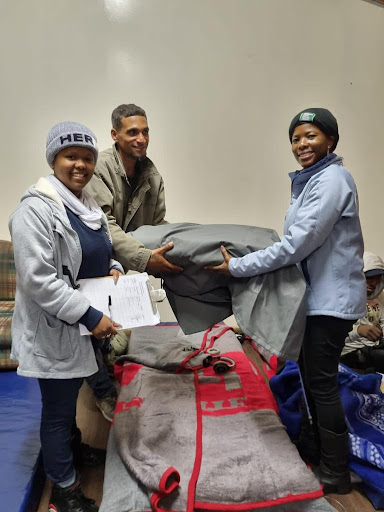 MES field workers handing out a Shelterbag at one of their sleep sites
MES field workers and volunteers assist at the sleeping sites, registering each homeless person and distributing food, cups and plates as needed. Volunteers try to talk to everyone individually and as a group and to make everyone feel welcome and safe. This is the first step to engaging with the homeless and building a trusting relationship and giving them hope that change is possible.
Allistair, one of our social workers says, "When we opened the Cold Front Sleeping Site in Parow, the homeless who queued outside gave us a big round of applause. Since there is no shelter in Parow CBD at the moment, they were thankful for the safe, dry and warm sleeping space we provided for the two nights. We are looking forward to the opening of the MES Centre of Hope which will provide permanent safe bed spaces for the homeless in Parow CBD."
Last week volunteers were excited to hand out 200 Shelterbags donated by the Sheltersuit Foundation. The Shelterbag is a portable, sheltered bed that rolls up into a bag, making it easy to carry. Each homeless person has to sign for their Shelterbag, which has been marked with their name, and each bag has an individual serial number. To sell or buy a shelterbag is a crime, and it is hoped that these bags will be used by their owners for a long time. Those who have received Shelterbags can safely store the bags at the Drop-in Centre during the day and then collect them for the evening when they visit the food canteen, as many homeless individuals are victims of theft and intimidation.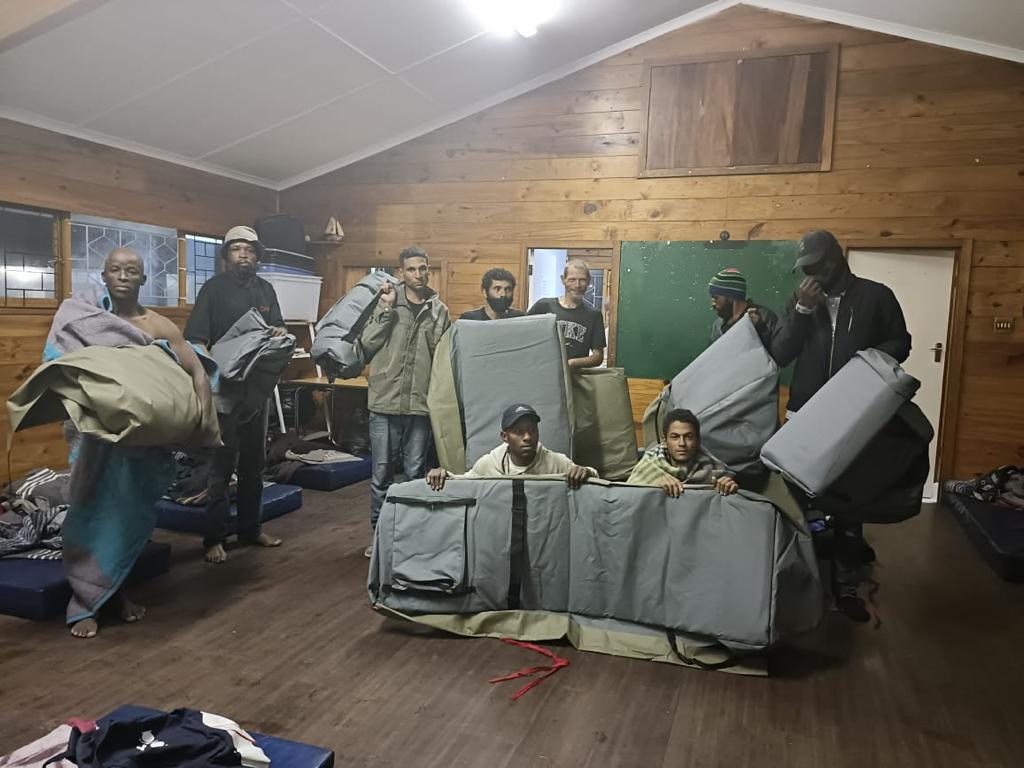 The value of the Cold Front Sleeping Site is that our homeless don't have to worry that they must sleep on the streets in severe wet and cold conditions if all the shelters are full. With the Shelterbag, they only need one blanket and they can sleep cosy and warm. The built-in mattress inside the Shelterbag also provides them with comfort when they have to sleep on hard, cold surfaces. See how these clever inventions work here.
Last year the MES organisers were overwhelmed by the reaction of the community and businesses who donated soup, toiletries, blankets and whatever they could give.
This year, we call on local businesses, churches, schools, and community members to donate what they can. The winter came to the Cape very late, but with a vengeance. There will be many more cold fronts in the coming weeks and months, and we need your assistance in order to help those that need it most.
If you would like to donate or volunteer, you can contact:
Clarina Hanekom, Fundraiser at MES:
Email: prcapetown@mes.org.za

Cell number: +27 74 692 1247
Anelle Erasmus, PR & Resource Developer at MES
Email: anelle@mes.org.za

Cell: +27 76 812 8277

Office: +27 21 949 8736