The Voortrekker Road Corridor Improvement District (VRCID) unveiled their new branding during a special event in celebration of their five-year contract renewal last week. The event at the Radio Tygerberg premises on Thursday August 3, was attended by about 150 City of Cape Town officials, partners, board members and local business owners.
The new contract started on Saturday July 1 and runs to June 30, 2022. Derek Bock, chief operating officer, previously told Northern News that safety and security would be top of the agenda for the VRCID over the next five years. They plan to spend about R2 million on rolling out 66 CCTV and Licence Plate Recognition LPR cameras throughout the Voortrekker corridor over the next 12 months. They have also renewed their contract with a private security firm, who will take care of safety, security and cleaning services.
VRCID board of directors chairman, Hardus Zevenster, said he met with roleplayers seven years ago to discuss the deterioration of Bellville and Parow. From here the idea of establishing a CID was born and two years later in 2012 the VRCID started operating along the Voortrekker corridor. "We didn't know much about running a CIDSRA but we learnt quickly," he said, adding that the "buying from business owners was very important." Mr Zevenster said they knew from the beginning that they wanted to be a CID with a difference and therefore their social service component was a priority. He said the VRCID would be more proactive than reactive during Voortrekker Road Corridor Improvement District board of directors chairman, Hardus Zevenster, this next term. The VRCID provides supplementary services to the local authorities and works closely alongside them to address areas such as security, cleansing, social development and improving public spaces. The VRCID covers an 8km stretch of road down Voortrekker Road from Goodwood to Bellville. Mr Bock said the initial goal was to bring back a sense of normality to the area in terms of safety, security and cleaning services. "The VRCID was therefore established to assist the City in addressing basic urban management issues which were neglected over the years." Deputy Mayor Ian Neilson congratulated VRCID on the work they have done in the area. "They can be proud of what they have achieved and I am sure they will improve on this in the coming years."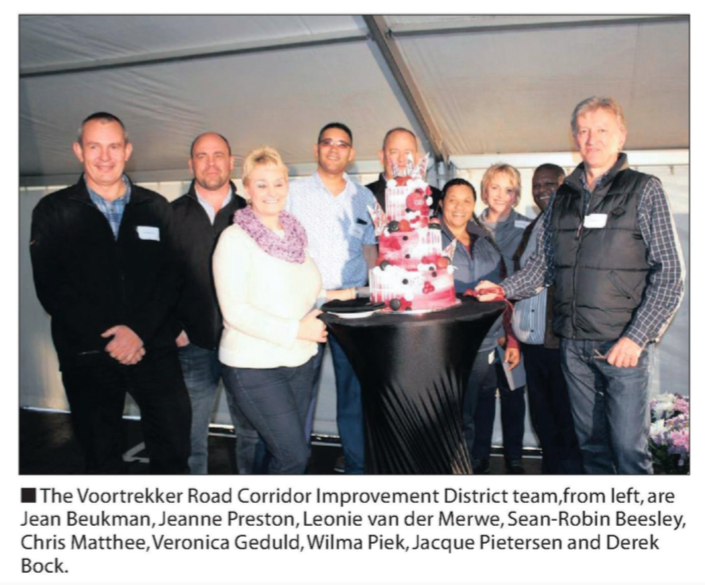 Originally publshed in Northern News (Goodwood/Parow) on 9 August 2017.
Author: Lizahn Wentzel