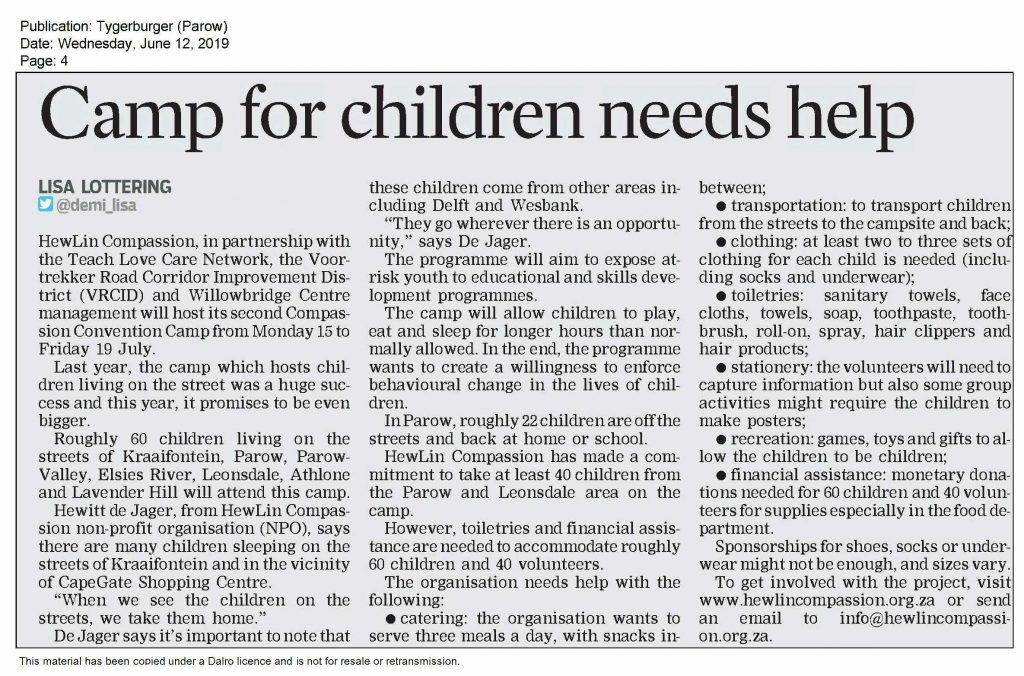 HewLin Compassion, in partnership with the Teach Love Care Network, the Voor­trekker Road Corridor Improvement District (VRCID) and Willowbridge Centre management will host its second Compassion Convention Camp from Monday 15 to Friday 19 July.
Last year, the camp which hosts children living on the street was a huge success and this year, it promises to be even bigger.
Roughly 60 children living on the streets of Kraaifontein, Parow, Parow­Valley, Elsies River, Leonsdale, Athlone and Lavender Hill will attend this camp.
Hewitt de Jager, from HewLin Compas­sion non-profit organisation (NPO), says there are many children sleeping on the streets of Kraaifontein and in the vicinity of CapeGate Shopping Centre. "When we see the children on the streets, we take them home." De Jager says it's important to note that these children come from other areas including Delft and Wesbank. "They go wherever there is an opportunity," says De Jager.
The programme will aim to expose at ­risk youth to educational and skills development programmes.
The camp will allow children to play, eat and sleep for longer hours than normally allowed. In the end, the programme wants to create a willingness to enforce behavioural change in the lives of children.
In Parow, roughly 22 children are off the streets and back at home or school.
HewLin Compassion has made a commitment to take at least 40 children from the Parow and Leonsdale area on the camp.
However, toiletries and financial assistance are needed to accommodate roughly 60 children and 40 volunteers.
The organisation needs help with the following:
catering: the organisation wants to serve three meals a day, with snacks in-between;
transportation: to transport children from the streets to the campsite and back;
clothing: at least two to three sets of clothing for each child is needed (including socks and underwear);
toiletries: sanitary towels, facecloths, towels, soap, toothpaste, toothbrush, roll-on, spray, hair clippers and hair products;
stationery: the volunteers will need to capture information but also some group activities might require the children to make posters;
recreation: games, toys and gifts to allow the children to be children;
financial assistance: monetary donations needed for 60 children and 40 volunteers for supplies especially in the food department.
Sponsorships for shoes, socks or underwear might not be enough, and sizes vary.
To get involved with the project, visit www.hewlincompassion.org.za or send an email to info@hewlincompassi­on.org.za